A Quick & Easy guide to Microsoft Windows Icon Size
There is sometimes a little confusion over the different sizes required to create a Windows 7 Application Icon file. This is in some way brought about by the flexibility of the ICO format and its ability to 'contain' many image sizes and colour depths but is also not helped by Microsoft's own quite poor documentation on Windows Icon Size, see here.
If you want to create an Windows 7 Compliant 'Application Icon', to be used as a short-cut, a file type, or embedded in an executable file, it must contain the minimum following icon sizes:
Standard Windows Icon Size for ICO format
256 x 256 pixels – 32bit (24bit colour, 8bit transparency)
48 x 48 pixels – 32bit (24bit colour, 8bit transparency)
32 x 32 pixels – 32bit (24bit colour, 8bit transparency)
16 x 16 pixels – 32bit (24bit colour, 8bit transparency)
To allow for backwards compatibility with Windows operating systems of software with a limited colour palette, you can also include the above icon sizes in 8bit (256 colours, 1bit colour transparency) and if you really wish to cover all eventualities in your icon design, 4bit (16 colours, 1bit transparency). This last colour depth is very rarely of use and as a rule I don't tend to include it unless requested specifically by the client as it just uses up unnecessary space. In fact, more often than not, 32bit ICO files are fine for most projects but I recommend you test in the final application before making this decision.
Need Icon Design?
We design icons for everything.
From a single icon to launch an app to a suite of icons for your website or software, we create icons for all platforms and all devices.
Additional Common Windows Icon Sizes
There are other additional Icon sizes supported by Windows Icons but they are rarely used. However, I will list them here for completion.
Extra Icon Sizes
128 x 128 pixels
96 x 96 pixels
180 x 180 pixels
72 x 72 pixels
64 x 64 pixels
24 x 24 pixels
The size most commonly used size on this list is '24 x 24′ as it is a standard size for menus within Windows 7 and 3rd-party software. When creating ICO files specifically for menus, rather than app icons, 16 x 16, 24 x 24 & 32 x 32 are the three most common sizes used.
Testing your Windows 7 Icon
The easiest way to test the compatibility of your Windows 7 ICO files is in a standard 'Window'.
Save your ICO files into a folder and then use the 'View' drop down to select the view or size of icon you wish to see.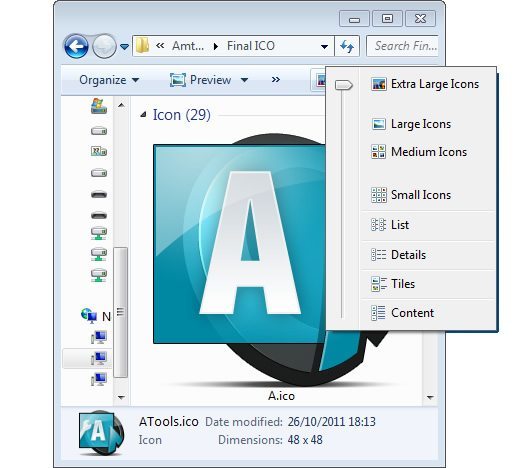 Windows 7 automatically scales the icons as you move between the sizes you have created. You can test this by moving the slider up and down.
The actual sizes displayed at each of the headings are as follows:
Extra Large Icons – 256 x 256 pixels
Large Icons – 96 x 96 pixels (Automatically rendered by Windows from 256 version)
Medium Icons – 48 x 48 pixels
Small Icons – 16 x 16 pixels
List – 16 x 16 pixels
Details – 16 x 16 pixels
Tiles – 48 x 48 pixels
Content – 32 x 32 pixels
Windows Icon Size Oddities
ICO files can also be used as overlays within Windows 7, a prime example is the small curved arrow used as a short-cut symbol on 'Shortcut' icons. Windows overlays a transparent ICO file with a small offset graphic within the bottom left corner, on top of the standard Application ICO file. Annotations is another case applying to the bottom right hand side but I have never come across a request from a client to create icons of this description in the 15 or so years I have been an icon designer, so it is not something I would lose any sleep over.
I hope you found this overview useful.
Want a new Windows 8 or 10 tile icon?
We can bring your software up to date with clean, contemporary Windows tile icons